My Vital Stats:
Age 59; born in Huntington Park, California; resident of Layton, Utah.
My Occupation:
I am the Co-Founder and Senior Software Engineer of Pinnacle Health Informatics LLC. A company providing data analytics and business intelligence software for behavioral health care agencies throughout the United States. 
My Photography:
Since receiving my first instamatic camera as a birthday gift, photography has been a passion of mine.  Early on I was inspired by the majestic landscapes of Ansel Adams and the beautiful wildlife images found in National Geographic magazine.  Over the years, I have explored many different genres of the craft; including wedding, portraiture, travel and street photography. However, I find that I get the most pleasure from being outdoors, capturing images of wildlife and beautiful landscapes.  I am now entirely focused on nature as my chosen subject.
Favorite Books:

(In no particular order)
Captured by Moose Peterson; Walden by Henry David Thoreau; The Camera, The Negative and The Print by Ansel Adams; Death in the Long Grass, Death in the Silent Places, Death in a Lonely Land, Death in the Dark Continent and Maneaters by Peter Hathaway Capstick; Rough Riders, African Game Trails, Theodore Roosevelt an Autobiography by Theodore Roosevelt; The Sun Also Rises, A Farwell to Arms and The Old Man and the Sea by Ernest Hemingway; The Compleat Angler by Isaak Walton
Last Book Read:
The Gods Never Left Us, by Erich von D

äniken
Favorite Films: (In no particular order)
Young Frankenstein, Out of Africa, Patton, All the films in the Star Wars saga, The Ghost and the Darkness, The Big Year, John Wick 1 and 2
Favorite Bands/Musicians: (In no particular order)
BB King, Buddy Guy, Muddy Waters, Stevie Ray Vaughan and Double Trouble, Albert Collins, Robert Johnson, Tampa Red, Howlin' Wolf, Johnny Winters, James Cotton, T-Bone Walker, John Lee Hooker, Son House, Sonny Boy Williamson, Big Bill Broonzy, John Mayhall, Eric Clapton, Joe Bonamassa, Popa Chubby, Gary Clark Jr., Blind Lemon Jefferson, Elmore James, Taj Mahal and Little Walter
Favorite Restaurants: 

(In no particular order)
Fleming's Steakhouse, Salt Lake City, UT (SLC); Ruth's Chris Steakhouse, SLC; Ruth's Diner, SLC; Rodizio Grill, SLC; Rice, SLC; Red Iguana, SLC;

Black Bear Diner, Layton, UT and J&D's Brigham City, UT;

Colombia Restaurant, Sarasota, FL; Legal Seafood and The Vortex, Atlanta, GA; 
Interests/Hobbies:
Nature Photography, Amateur Radio (NB7B), Electronics, Slow-Smoked Barbeque and SQL programming
Favorite Magazines:
Audubon, National Geographic, Lightroom, Photoshop User, Outdoor Photographer, Outdoor Photography
Favorite Foods:
A bone-in dry-aged New York strip with duck-fat fries; seared Ahi tuna with a pepper crust; jumbo shrimp cocktail; smoked, pulled pork; smoked brisket; hot-link sandwiches; my homemade bacon; almost any Mexican food and my wife's pepperoni and sausage lasagna.
Favorite TV Shows: (in no particular order)
The Grid from KelbyOne, Ancient Aliens, The Tesla Files, Beat Bobby Flay, Chopped, Worst Cooks in America, Iron Chef Gauntlet, Reruns of Iron Chef America, Iron Chef Showdown, The Best Thing I Ever Ate, Diner's Drive-ins and Dive's and reruns of Good Eats.
Computer Setup:
Quad-core Xeon Processor PC with 32GB RAM running Windows 10, 3-27" monitors, Epson 4900 Printer, Logitech G602 wireless gaming mouse programmed for editing in Lightroom, a Loupedeck control surface for Lightroom and a Wacom Intuos Pro small tablet.
My Favorite Stuff:
Canon 60D DSLR
Sigma 150-600mm Contemporary Lens
Sigma 10-20mm Lens
Canon 50mm f1.8 Lens
Induro 413 aluminum tripod
Think Tank Photo Airport Security V3.0
Lee Big Stopper ND Filter
My Yoder YS-640 Competition Cart Smoker
Favorite Software Programs:
Lightroom Classic, Adobe Photoshop CC, Adobe InDesign, NIK Collection of plugins, Goodsync and Backblaze
Favorite Diversion:
I love going with my dear wife Jennifer to Antelope Island State Park or the Bear River Migratory Bird Refuge before dawn to capture images of wildlife.
Favorite Web Sites:
KelbyOne, Lightroom Killer Tips, Scott Kelby's Photoshop Insider Blog, YouTube, 500px, B&H Photo, Instagram, Facebook and Cornell University's AllAboutBirds.org
Favorite Quote:
"[...]remember, no matter where you go, there you are." —
Buckaroo Banzai
Personal Philosophy:
Take less than you're allowed and give more than you have to.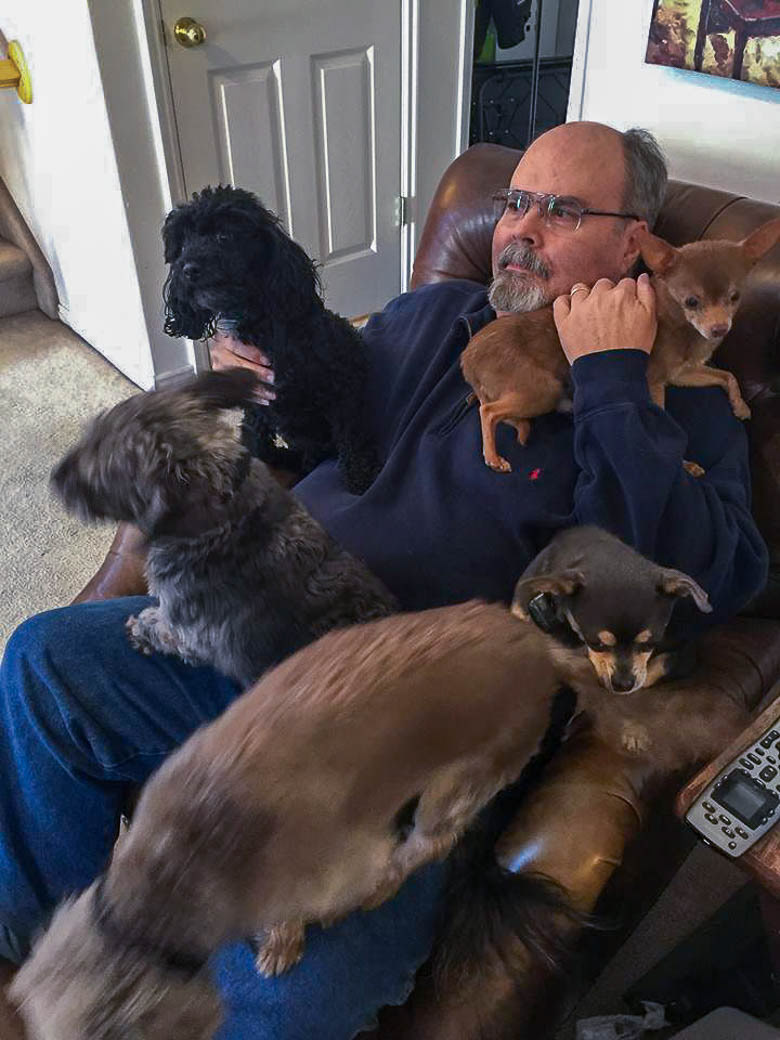 I like critters, especially these little guys.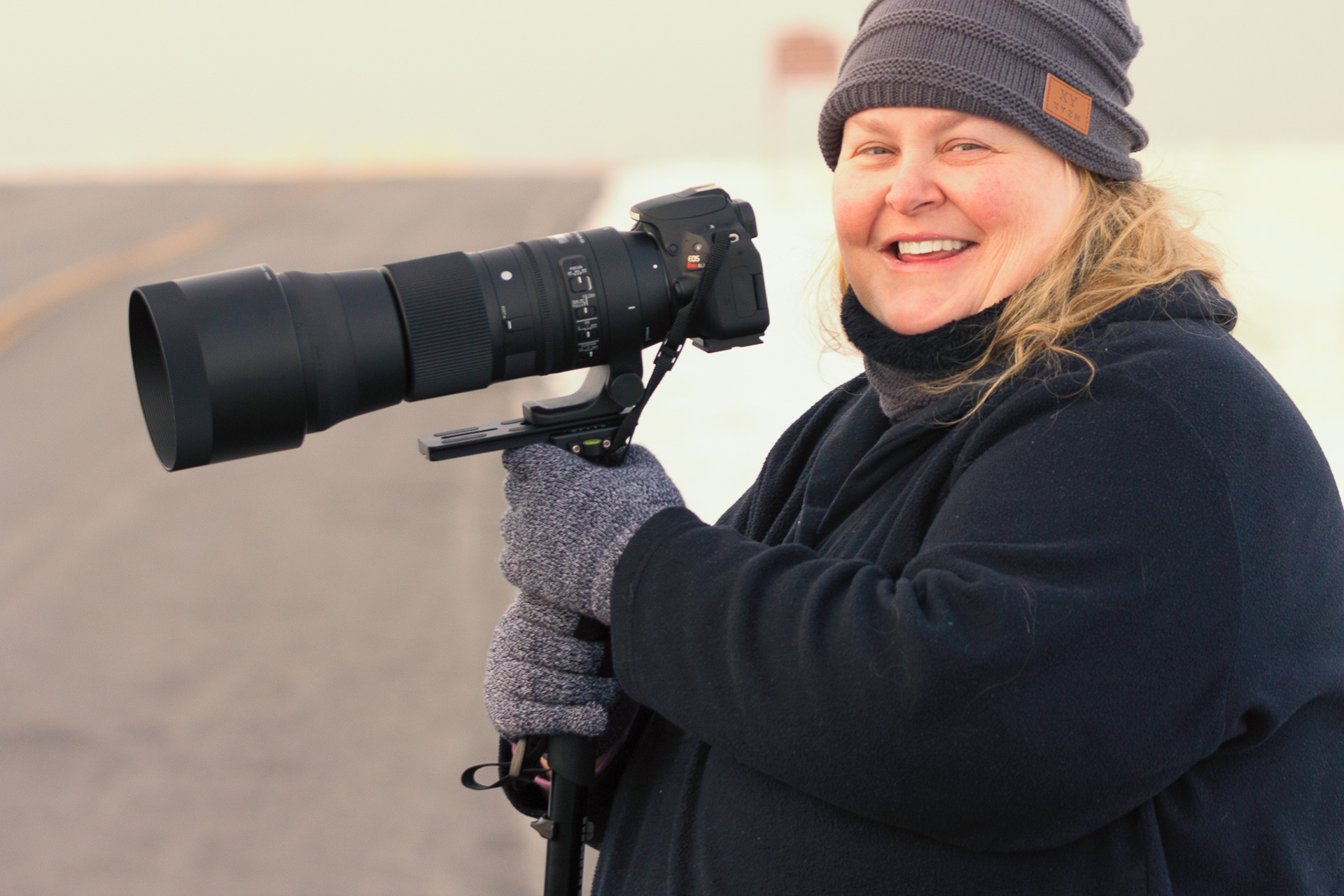 Jennifer after a Bison walked just 6 feet in front of her.